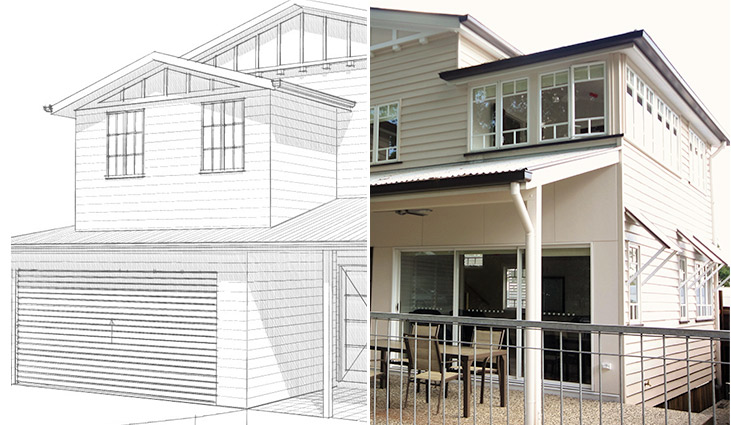 Why Choose Your Builder Before Your Architect or Draftsman?
Popular TV shows such as The Block, House Rules and Grand Designs have created a buzz around the extension and renovation industry. With excitement levels peaking, clients will often go straight to an architect or draftsman to design their dream extension, which they almost always fall in love with instantly. However, obtaining full plans and engineering designs before obtaining a price from a builder is risky business and could end up costing you your dream.
You've probably heard stories of people forking out as much as $25,000 to have plans drawn up, before even considering a builder. By the time they seek pricing, clients are often forced to realise that their budget and plans simply don't match. For that reason, it is widely speculated that as much as 80% of plans are never actually built.
There is an alternative!
Working with a quality builder from the start of your build journey and involving them throughout the design phase will help balance your budget, requirements and desired appearance. Your builder will also be able to provide advice and recommendations along the way to ensure your dream outcome is achieved.
Here at Update Renovate Extension Specialists, we go one step further and take care of the entire construction process from concept to completion.
So, what exactly does this involve?
To begin with, our clients will approach us with a brief, which we look over closely to provide a ballpark figure. This means you will have an idea of whether your ideas are realistic before you've spent time and money on potentially unachievable plans. Next, we enter the concept stage where we provide you with preliminary concept plans, a 3D virtual model and a fixed price quote to suit your project's unique specifications and budget. Once accepted, this comprehensive quote forms the contract price and scope of works.
During the pre-construction phase, we will complete any necessary engineering design, before seeking and obtaining certification from a qualified structural engineer. The benefit of having a builder involved in this process is that we can ensure that the design is practical and cost effective to build, which will eliminate any costly oversights prior to and during construction.
Therefor our in house planning and design services will significantly reduce the cost of your project by ensuring your design is practical and budget friendly. In fact, on average, you'll save at least $15,000 on a second storey extension by working with a design and construct builder. However, not every builder offers this service and even within the design and construct industry, offerings vary, so it's important to check what's included before signing any contracts.
At Update Renovate Extension Specialists, we offer a unique all-in-one design and construction service to remove the hassle and simplify your building journey. Get in touch with Kevin and Ray today to discuss your dream house extension project.
The average cost of planning and design for a second-storey extension:
| | | | |
| --- | --- | --- | --- |
| | Update Renovate Extension Specialists | Draftsman | Architect |
| What You'll Receive | 3D plans and virtual model | Basic 2D plans | Varies greatly |
| Concept Designs | $ 2,000 | $ 2,500 + | $ 10,000 + |
| Application & Construction Plans | $ 2,500 | $ 2,500 + | $ 15,000 + |
| Engineering Design and/or certification | $ 880 | $ 2,500 + | $ 3,500 + |
|  Total | $ 5,380 | $ 7,500 | $ 28,500 |