I immediately identified the potential in this property when my wife and I purchased it in 2014. She, on the other hand, took a lot of convincing.
The existing house was a very original 1970's era home, which featured three small bedrooms, limited storage, disjointed living spaces, an original peach-coloured kitchen, green-accented bathroom and shaggy carpets throughout. Definitely not ideal for a young growing family!
But before we even had the keys, I had already drawn the floorplan for the second-storey extension.
A Step by Step Renovation
Before moving in, we conducted a basic renovation of the existing dwelling to strip out the asbestos sheeting, renovate the bathroom, partially renovate the kitchen and remove the carpets to expose the as-new unpolished existing floorboards.
In 2016, we completed stage two of the grand plan, adding the forward carport and rear deck. When COVID-19 hit in early 2020, I decided to pull the final renovation and extension forward a few years as we rode out the pandemic.
Designed entirely in-house, the design of this home centred around a second-storey extension, which included a grand master suite with high raked ceilings, a walk-in wardrobe and luxurious ensuite, three kids' bedrooms (including recessed, built-in wardrobes), generous linen storage, a rumpus room, and a common bathroom with a hidden laundry chute.
The design also incorporates custom built-in cabinetry, including a modern window seat in the master bedroom and feature bookshelves. Other features include smart home control, 10kW solar power system and smart ducted air conditioning with energy efficient inclusions.
On the ground floor, the smallest existing bedroom was removed to make way for the new staircase, with a feature screen adjoining the existing dining room. The front living room was extended forward one metre, halving the depth of the existing porch, and the laundry and pantry were extended and renovated out under the existing eaves. The existing wardrobe was removed from the previous master bedroom to make room for ample desk spaces in the new home office.
In order to transform the external appearance from 1970s to a modern home, the design incorporates a split pitch skillion roof design with the higher roof angled towards the northern elevation for the roof-mounted solar power system. The existing carport roof was extended to tie into the new second storey, completing the design over the entry.
Commencing in April 2020, we had the second storey completed in 14 weeks before we started on the ground floor alterations, which included replacing plasterboard ceilings, sanding and polishing the existing floors. Due to the extent and disruption of the ground floor works, we temporarily moved our family out for a four-week period.
Overall, the project was completed ahead of schedule and within the budget.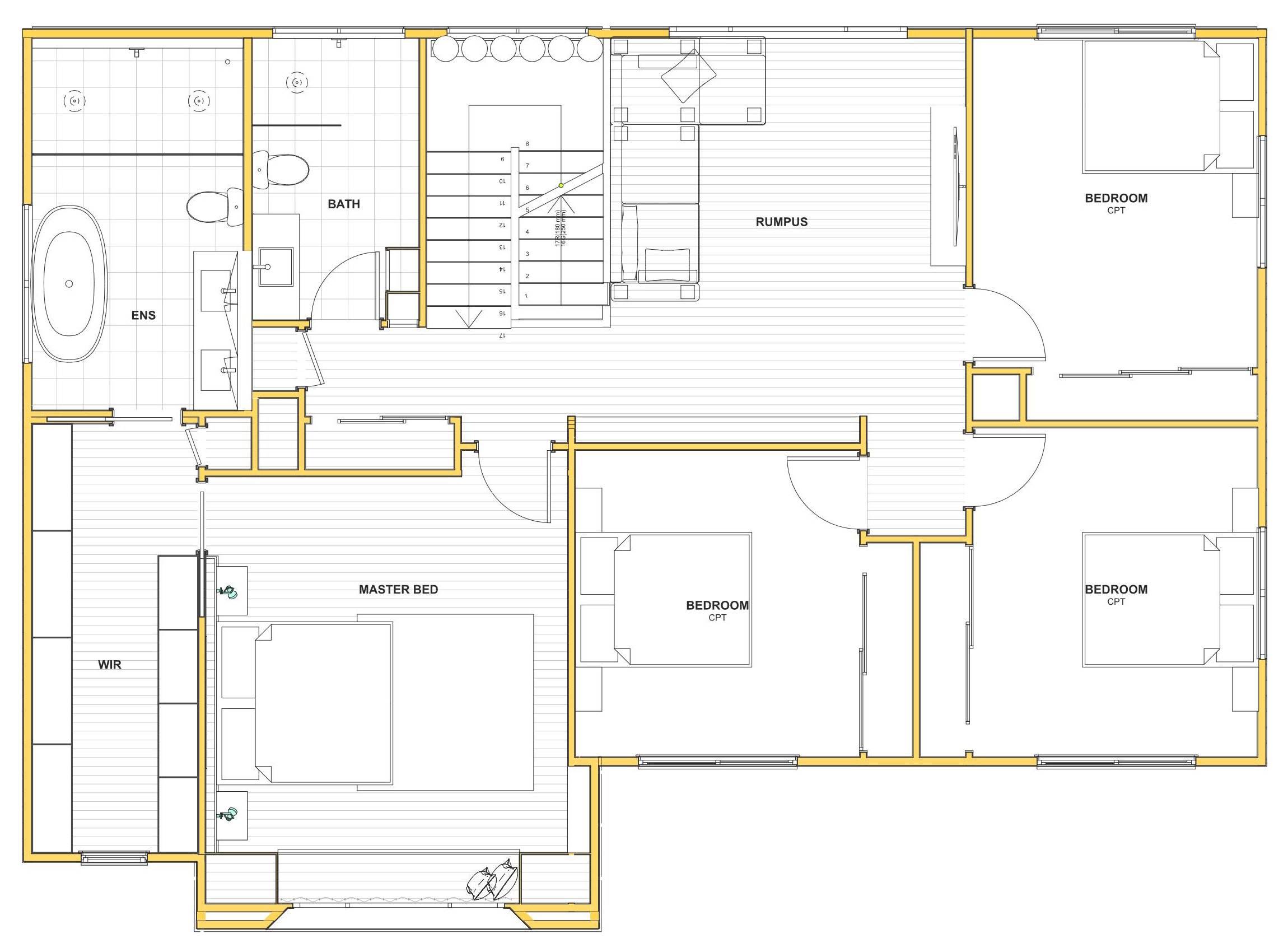 Brisbane's First Second-Storey Extension and Renovation Display Home
We have now set up a home-based sales office at this project and the premises is being used as a display home (by appointment only) and sales tool for Update Renovate.
This is the first and only second-storey extension and renovation display home in Brisbane, offering prospective clients unprecedented access to view our finishes, products, process, and services first hand.
If you're interested in taking a walk through our exclusive display home, check out the virtual tour or contact us today.
Our Happy Client's
Kind Comments
Why did you choose Update Renovate?

From the very first meeting with Kevin and Ray we felt very comfortable and there wasn't the hard sell that we have previously experienced when we attempted this project with another company. Ray couldn't of been more helpful, during the design stage we were trying to cut costs and he was more than accommodating, offering suggestions and making amendments to suit our needs. All of the tradespersons were very professional, approachable and accommodating and most importantly we felt totally comfortable with the crew at our property at all times.

Finally we are absolutely happy with the final outcome of our second storey extension. We would definitely use Update Renovate again for our next project and recommend them to anyone looking to extend.
Would you choose Update Renovate for your next building project? Yes

We are very happy with Update Renovates work completing our extension. During both the design and construction processes, we greatly appreciated their flexibility to accommodate changes, professional advice and ideas. Also the minor maintenance jobs they completed around the house were a real bonus! Thank you!
We would love to say thank you to the whole team,

Firstly Ray, thanks for being so prompt to my barrage of emails and questions, you were always so helpful that I never had any doubts. Secondly we cannot sing the praises of Rob and Lachy enough, they are not only talented carpenters they are also lovely guys who made our building experience very enjoyable, so much so that our 2 year old was in tears when they finished. We love our new home and don't know how we lived without the space. So finally, thanks again you have a great team.
We are very happy with the end product. The professional service and advice provided throughout the project was both helpful and greatly appreciated. Specifically thanks to Ray and all the Update Renovate team who had a hand in the extension and renovation.

Would you choose Update Renovate to complete you next building project? Yes

Would you recommend Update Renovate to family and friends? Yes
From the initial quote through to the final completion of the job, Update Renovate were both very professional and thorough. All the tradespeople were polite, on time and the whole process was simple and well managed. We are very happy with the result and would not hesitate to recommend Update Renovate to other customers.

Would you choose Update Renovate to complete any future building works? Yes
The carpenters and all the tradies that came to our house where great. Most noteworthy, the plaster repairs are seamless and the tiling is terrific. Many thanks to Kevin, Leigh, Peta, Dave, Phil and everyone involved. We are very happy with our extension and have already recommended Update Renovate to a few friends and family.
How do you rate the building and construction stage?

All the Update Renovate carpenters on our job were both very friendly and professional. Dave and Phil were always able to answer our questions and were able to accommodate the small changes we made during the build. We are extremely happy with the work that Update Renovate has done for us.  We love our new house.
How do you rate the initial consultation and concept design stage service?

We were very happy with the initial consultation with Kevin. He was both open and honest and had some great ideas that we hadn't even thought about. Also we felt reassured that he knew the full building process, had a good understanding of building regulations and most importantly he wasn't just a salesman for the company.
How do you rate the initial consultation and concept design stage services?

Excellent and very accommodating. Both Kevin and Ray contributed simple and practical ideas that resulted in an excellent functional design that met our needs and budget. They provided great advice, were quick to make changes and respond to our questions.
Would you use or recommend Update Renovate again in the future?

YES 150%. We are completely thrilled with the result. The whole process was simple and practical. Furthermore the team was excellent and very considerate of our needs while we lived and worked from the house. 
Thank you all for the excellent work you have done on our house over the past year. Everyone was polite, considerate and helpful and all work of an excellent standard. Thank you Kevin for your patience with us and the calm, efficent way you tackled all our requests and problems as they arose. Special thanks to Tim and Peter the tiler for their meticulous attention to detail, we are very happy with our new improved home.
Great response to concerns and rectified issues as they arose, not that there were many. Very flexible, we had to delay start date and team was understanding of that. Staff who worked on the site were fantastic, very helpful and friendly. Happy to explain and seemed very proud of the work they did. Office team also very responsive and got back in reasonable timeframes.
Fantastic service from start to finish. Very happy with the process and end result of our renovation.
Ray, Kevin and the Update Renovate team worked with us from start to completion and guided us every step of the way. They took great care to help us create our vision and welcomed our input and feedback.  Throughout the entire project, communication was of the highest standard and we always knew where things where at. The team were always respectful of not only our family, but also our neighbours. We stayed in the house through the build, and the site was always left clean and tidy and the team went out of their way to make this as seamless as possible.
We could not be happier with the finished project and highly recommend Update Renovate.
We would definitely recommend Ray, Kevin, Rob and the team from Update Renovate. They are a very organised outfit who delivered exactly what we wanted in excellent time and outstanding quality.