You spend a lot of time in your bathroom, so you need to make sure it's perfectly designed to suit your needs. Whether you're renovating your existing bathroom or extending into a new one, there's many things you should know to ensure the completed space works for you and your family.
That's why we've put together this ultimate guide of tips and tricks for your new bathroom. Make sure to read through it before getting started on your next bathroom project.
Style
Bathroom styles are as individual as each person, but they can be split into three basic categories.
Simple / Modern
This style features clean lines and a functional design, often with a two-tone tile selection. With white walls and darker floor tiles, there are minimal features tiles used. Large vanities are chosen for ample storage and cast ceramic benchtops with chrome, black or brushed metal tap ware and accessories are a common choice.
Hamptons / Traditional
This is the trend of the moment, with these bathrooms often featuring shaker-style cabinets, marble-look benchtops, subway tiles and a white and grey colour palette. This modern take on the traditional bathroom has a classy, luxurious feel and can be applied to just about any home.
Industrial
Industrial bathrooms are in favour with architects. They often feature exposed water pipes, a black and grey colour palette, natural timber features and brushed metal finishes.
Main Bathroom
For resale purposes, every home should have at least one bath and two bathrooms (for four or more bedrooms). Usually a main bathroom will have a separate toilet and bathroom with a small shower, vanity and bathtub.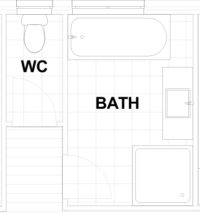 Ultimate Main Bathroom
The Ultimate main bathroom layout is designed to service a large family. The bathroom will be split into three rooms; powder room, toilet and shower, which allows three or more people to use the space simultaneously. This usually includes a double basin vanity, separate toilet, bathtub, separate shower and built-in linen storage.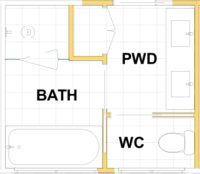 Ensuite
An ensuite is typically governed by the size and shape of the room. Often clients will request double basin vanities and double shower heads. Ideally an ensuite should be accessed through a wardrobe for functionality and acoustic privacy when possible.
Vanities
A common question among clients is 'should I have a freestanding or wall-hung vanity?' Freestanding vanities offer additional storage down low but tend to look a bit dated and cheap when compared to a wall-hung vanity. Wall-hung vanities can make a bathroom feel bigger by reducing the bulk and scale of the fixture. The space below a wall hung vanity is typically 300- 400mm which provides good access for cleaning and can be a good spot for a small bin to tuck away neatly.
There are many finishes available for vanity cabinets and benchtops/basins. By far the most popular benchtop is a cast ceramic top, which has a basin moulded into the top. These have no silicone seals around the basin and provide a seamless surface to clean and wipe down.
You can also choose from a vessel or semi-recessed basin. A vessel basin sits atop of the benchtop while a semi-recessed basin sits partly in the benchtop. The downside to these basins is that they can present a challenge for cleaning with a tight space behind the basin. You'll also need to consider tap ware, as both options will require a tall mixer or wall-mounted selection to suit the height of the bowl.
Timber benchtops are also an option however they are prone to contact damage from excessive moisture and chemicals in products like toothpaste and nail polish remover.
Storage
Drawers are a great way to utilise space in the bathroom. It's a good idea to look for a vanity that provides both drawers and open storage space for the bulkier items. Where drawers are located under a basin, they will have a cut out, which may infringe on your storage space.
Face-level storage or shaving cabinets are a fantastic option, providing great storage solutions for smaller items and keeping medication and chemicals out of reach of children. Where possible, these should be recessed into the wall frame reducing projection and overshadowing of the basin.
Quality tapware makes a huge difference. High-quality tapware like brass or metal will usually come with a 7 to 15-year warranty and is often worth the investment. Mixer type taps are by far the most popular with a huge range available. These use a single mixer lever that controls both hot and cold water feeds. In terms of showers, we have seen many combination sets lately, which provide both an overhead rain shower and hand shower on a single rail.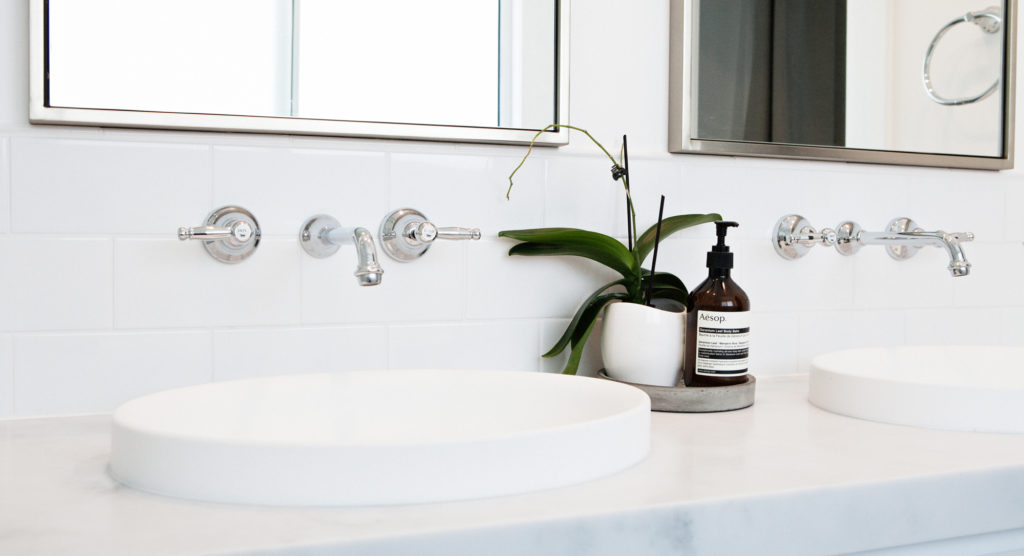 Toilets
Look for a back-to-wall toilet, which means the cistern mounts neatly atop the pan and finishes tight against the wall, compared to more traditional toilets where there is a gap behind the pan which gets filthy and is a pain to clean. The majority of back-to-wall toilets have a concealed water connection which comes into the top of the cistern again for a nice clean and seamless finish. Also, always opt for a ceramic toilet – plastic is never a good option.
Concealed cistern toilets can be a great option if the room is small, as they reduce the bulk and scale of the fixture. Concealed cisterns are not recommended when installed onto an internal wall as they can be quite loud from the adjoining room.
Bathtubs
When space is an issue and a combined shower and bath is required, there are a range of options available that feature a wider base and squarer shower end for increased space. If you have a significant amount of space to play around with, a free-standing bathtub can be very stylish, and they are available in a variety of styles, shapes and finishes.
By far the most practical and common type of bath is a built-in tub, which is checked into the wall frames and tiled in. These baths allow you to maximise the use of space by building between walls, fixtures and fittings, whilst eliminating gaps and crevices that can be awkward to clean.
Modern acrylic bathtubs have come along way and are now the most common material on the market. Available in a huge range of sizes, shapes and styles, including built-in and free standing, most of these are very well priced. Enamel bathtubs are a more expensive option, but they are few and far between and are a much stronger and more durable product.
Other than the traditional bath spout, there are now a few more options including swivel spouts, which fold out of the way and overflow bath fillers. Overflow bath fillers have a water outlet concealed in the bath meaning there is no spout at all. To fill up the tub you simply turn on the tap and the water flows out of the overflow fitting to fill up the tub.
Wall & Floor Tiles
White wall tiles with a feature wall or strip will increase the ambient light in your bathroom. Offset with a darker floor tile and a timber grain or coloured vanity, this can be a great look. Rectangular tiles are also a great choice, which offer flexibility with your layout.
Tile direction is usually overlooked until the tiler is onsite but did you know that when rectangular wall tiles are run vertically, they can add height to your room, while horizontal tiles will add length. Full height tiles, particularly when white or light in colour, can make the space feel larger and improve the ambient light along with the feeling of luxury.
There are a huge variety of feature tiles on the market, including everything from mosaics to subway and marble-look tiles. The basic principle here is 'less is more' – don't be afraid to use a bold feature tile but limit it to one wall or section so it doesn't overpower the space or blow your budget. Don't forget the grout colour too! A white tile with light grey grout can be a feature in itself.
With the trend towards using large format tiles, most quality builders now use lineal strip drains in showers which come in a variety of styles including tile insert or grill. The benefit of a linear waste is that the fall for the shower is run in one direction to the strip waste which collects the water and discharges via a single outlet. This allows for large format tiles and avoids the multiple cuts and joins required to fall large format tiles to a small centre waste.