The current global pandemic has made one thing very clear – the workplace as we currently know it is going to change forever. If you're now considering or already working from home, you'll understand what I mean. This shift has illustrated the importance of a home office, something I believe has been a very overlooked and undervalued asset in the past.
Consider this – I live in Mt Gravatt East, only 13km from the city. If I worked in the city and could work from home for just two days a week, I could save up to $789.12 and 96 hours commuting a year. (See the table below)
| Mode | Cost (per day return trip) | Total saving per year (working from home two days a week) | Commute (per day return) | Total time saving per year (working from home two days a week) | Notes |
| --- | --- | --- | --- | --- | --- |
| Car | $ 3.12 | $ 299.52 |  60-120 minutes | 48-96 hours | Fuel cost averaged at $1.50p/L and assumed average fuel consumption of 8L/ 100km (excluding on road, maintenance costs and parking fees) |
| Bus | $ 8.22 | $ 789.12 |  100-120 minutes | 80-96 hours | Standard Rates as of 18/03/2020 |
| Bicycle | $ 0.00 | $ 0.00 |  100-120 minutes | 80-96 hours | |
Therefor, that's an extra 96 hours a year I could spend with the family, exercising, taking up a hobby or investing in my own well being, rather than sitting in traffic. Plus, $700 odd spending money to boot! And that's only the personal benefits. From a company perspective, many trials and studies have shown a marked increase in productivity and staff morale as a result of more flexible working conditions.
In addition there is the potential reduction on our congested infrastructure and public transport industries. According to the 2016 Australian Census, 80 per cent of people commute to work in a personal vehicle and 30 per cent of these, who are employed in Greater Brisbane, work in the inner city. That's 240,000 Brisbane commuters heading into the city each and every day via their own vehicle.
In fact if just 25% of the inner-city workforce could work from home for two days a week, statistically we would see an average 10 per cent reduction in daily vehicle traffic, or 24,000 less vehicles on the road every day.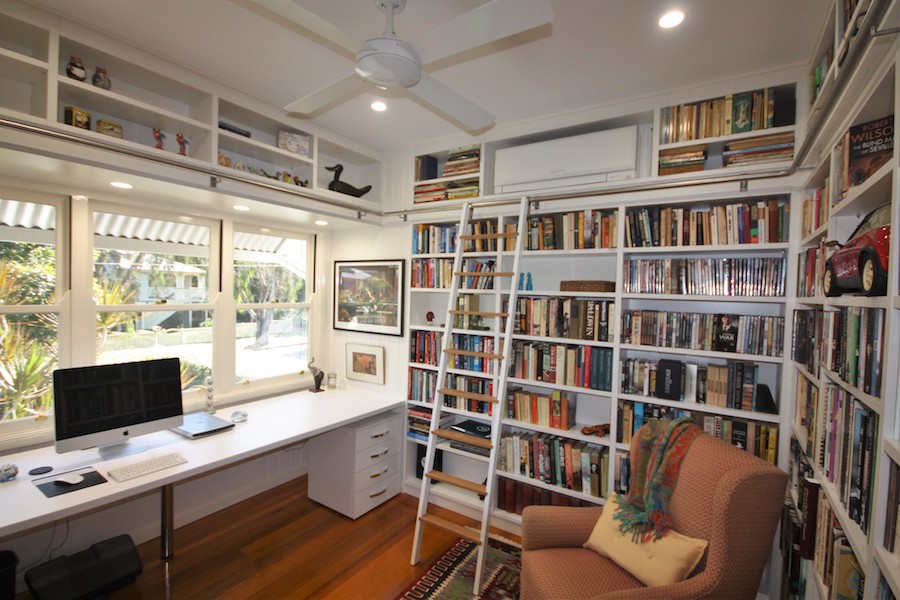 So, is it time you considered extending your home with a study or office space?
Our tip – make it big enough to use as a bedroom or multipurpose room should the need arise. Not only will you future-proof your home, you'll significantly increase the value of the property too.
So, what would you need to work from home in your dream office?
Plenty of storage space is a must. Access to high speed internet is another necessity – working from home doesn't mean complete isolation and many companies offer virtual offices with regular online video meetings. You'll also require adequate lighting to ensure you remain productive and creative throughout the workday. Add a stylish desk, comfortable and supportive chair and some decor to inspire you, and you've got the perfect at-home office. For some more information about different extensions and budget pricing check out our previous blog post How much does a house extension cost? 
At Update Renovate, we offer a unique all-in-one design and construction service to remove the hassle and simplify your building journey. Get in touch with Kevin and Ray today to discuss your dream house and home office extension project. We'd love to help!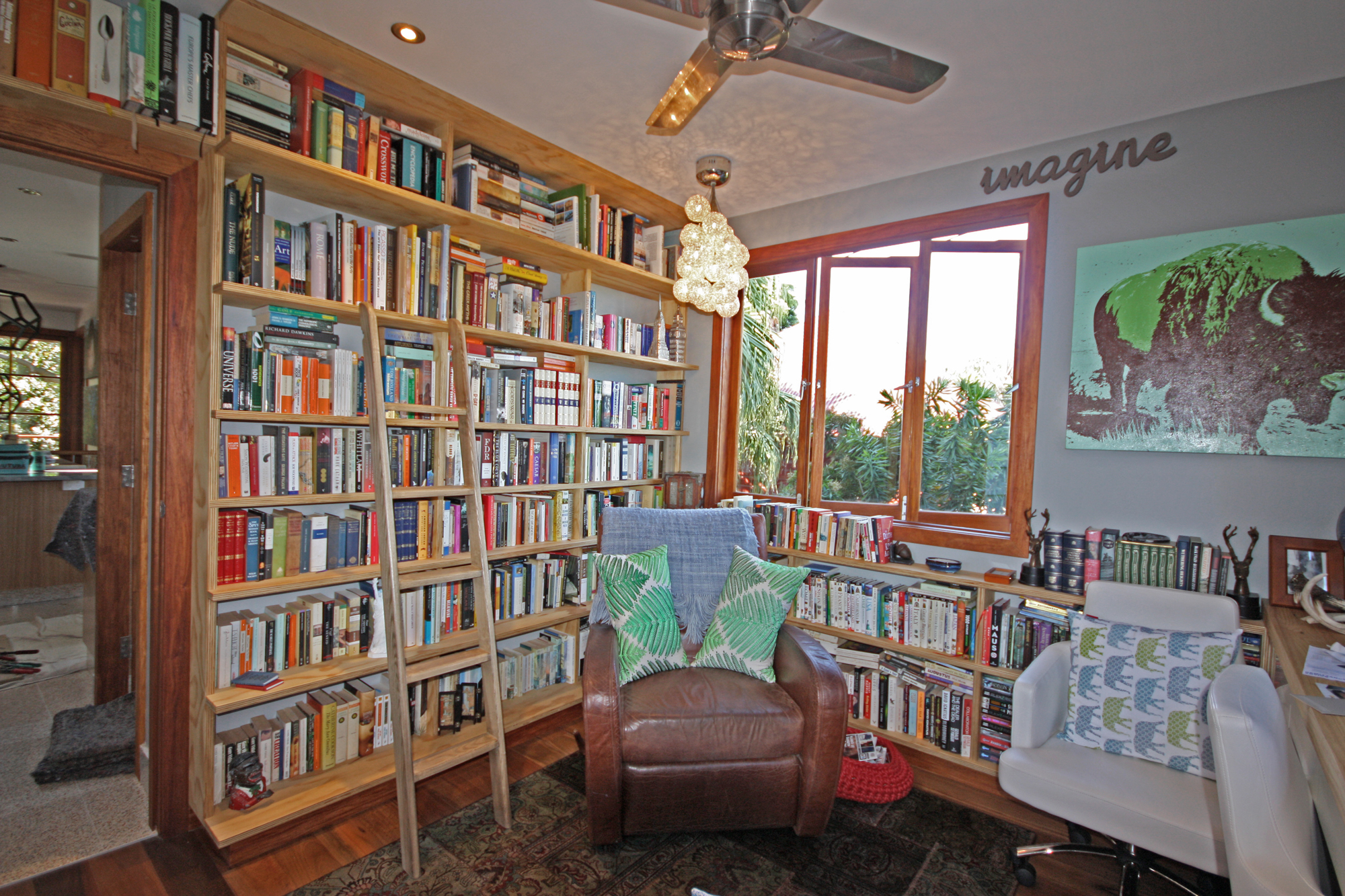 Our Happy Client's
Kind Comments
Why did you choose Update Renovate?

From the very first meeting with Kevin and Ray we felt very comfortable and there wasn't the hard sell that we have previously experienced when we attempted this project with another company. Ray couldn't of been more helpful, during the design stage we were trying to cut costs and he was more than accommodating, offering suggestions and making amendments to suit our needs. All of the tradespersons were very professional, approachable and accommodating and most importantly we felt totally comfortable with the crew at our property at all times.

Finally we are absolutely happy with the final outcome of our second storey extension. We would definitely use Update Renovate again for our next project and recommend them to anyone looking to extend.
Would you choose Update Renovate for your next building project? Yes

We are very happy with Update Renovates work completing our extension. During both the design and construction processes, we greatly appreciated their flexibility to accommodate changes, professional advice and ideas. Also the minor maintenance jobs they completed around the house were a real bonus! Thank you!
We would love to say thank you to the whole team,

Firstly Ray, thanks for being so prompt to my barrage of emails and questions, you were always so helpful that I never had any doubts. Secondly we cannot sing the praises of Rob and Lachy enough, they are not only talented carpenters they are also lovely guys who made our building experience very enjoyable, so much so that our 2 year old was in tears when they finished. We love our new home and don't know how we lived without the space. So finally, thanks again you have a great team.
We are very happy with the end product. The professional service and advice provided throughout the project was both helpful and greatly appreciated. Specifically thanks to Ray and all the Update Renovate team who had a hand in the extension and renovation.

Would you choose Update Renovate to complete you next building project? Yes

Would you recommend Update Renovate to family and friends? Yes
From the initial quote through to the final completion of the job, Update Renovate were both very professional and thorough. All the tradespeople were polite, on time and the whole process was simple and well managed. We are very happy with the result and would not hesitate to recommend Update Renovate to other customers.

Would you choose Update Renovate to complete any future building works? Yes
The carpenters and all the tradies that came to our house where great. Most noteworthy, the plaster repairs are seamless and the tiling is terrific. Many thanks to Kevin, Leigh, Peta, Dave, Phil and everyone involved. We are very happy with our extension and have already recommended Update Renovate to a few friends and family.
How do you rate the building and construction stage?

All the Update Renovate carpenters on our job were both very friendly and professional. Dave and Phil were always able to answer our questions and were able to accommodate the small changes we made during the build. We are extremely happy with the work that Update Renovate has done for us.  We love our new house.
How do you rate the initial consultation and concept design stage service?

We were very happy with the initial consultation with Kevin. He was both open and honest and had some great ideas that we hadn't even thought about. Also we felt reassured that he knew the full building process, had a good understanding of building regulations and most importantly he wasn't just a salesman for the company.
How do you rate the initial consultation and concept design stage services?

Excellent and very accommodating. Both Kevin and Ray contributed simple and practical ideas that resulted in an excellent functional design that met our needs and budget. They provided great advice, were quick to make changes and respond to our questions.
Would you use or recommend Update Renovate again in the future?

YES 150%. We are completely thrilled with the result. The whole process was simple and practical. Furthermore the team was excellent and very considerate of our needs while we lived and worked from the house. 
Thank you all for the excellent work you have done on our house over the past year. Everyone was polite, considerate and helpful and all work of an excellent standard. Thank you Kevin for your patience with us and the calm, efficent way you tackled all our requests and problems as they arose. Special thanks to Tim and Peter the tiler for their meticulous attention to detail, we are very happy with our new improved home.
Great response to concerns and rectified issues as they arose, not that there were many. Very flexible, we had to delay start date and team was understanding of that. Staff who worked on the site were fantastic, very helpful and friendly. Happy to explain and seemed very proud of the work they did. Office team also very responsive and got back in reasonable timeframes.
Fantastic service from start to finish. Very happy with the process and end result of our renovation.
Ray, Kevin and the Update Renovate team worked with us from start to completion and guided us every step of the way. They took great care to help us create our vision and welcomed our input and feedback.  Throughout the entire project, communication was of the highest standard and we always knew where things where at. The team were always respectful of not only our family, but also our neighbours. We stayed in the house through the build, and the site was always left clean and tidy and the team went out of their way to make this as seamless as possible.
We could not be happier with the finished project and highly recommend Update Renovate.
We would definitely recommend Ray, Kevin, Rob and the team from Update Renovate. They are a very organised outfit who delivered exactly what we wanted in excellent time and outstanding quality.